Everything you need to know when purchasing free weights. Learn how to choose the right free weights for your workouts and goals.
When purchasing fitness equipment it is important that you keep your personal fitness goals and preferences the priority, and then choose the solutions best matched to achieve your goals.
We feel strongly that the best workout is the one you ACTUALLY DO - so it's important to us to help you choose the right fitness equipment for your goals and preferences. To help, we have compiled the top things to consider when purchasing free weights for your home.
Typically, our free weight customers can usually be categorized into two distinct groups.
- The first group being those who already know their way around a weight room. They are familiar with the basics of equipment and already have experience and a preference for their workouts.
- The second group are those wanting to get started, and are doing their research in order to make an informed decision. These are typically the fitness fans who are just beginning their health and wellness journey, and might need guidance not just in where to start but also the best way to reach their end goals.
Our experience has shown that the two groups typically have very different needs in terms of the type of information they are interested in when considering free weights, benches, and racks than our clients who are just starting their fitness journeys.
This free weights buyers guide is designed primarily for beginners, however, we certainly would love to talk to you about any questions, concerns, challenges, or needs not covered that you are experiencing.
You can talk right now with our equipment experts by clicking on live chat on our website, calling us on the phone, or stopping into one of our many local fitness showrooms.
Now, for those just getting started on their quest to find the best fitness equipment solutions for their strength training goals - it's important to note that when you are incorporating strength training into your workouts that both free weights and machines have their own individual benefits.
Before deciding on free weights as the right tool for your fitness goals, you should review our list of the top questions to ask before purchasing strength equipment, including;
- What are your current, and future, workout goals?
- Do you have a specific training plan in mind to achieve them?
- Do you have any injuries or limitations you want to strengthen or work around?
- Are you rehabbing from an injury?
- What kind of home gym space do you have available?
- Will more than one person be using the fitness equipment?
After answering the above questions, and determining free weights are the right strength training tool for your workouts, it's time to learn how to choose the best free weight option for you.
THE MOST IMPORTANT THING TO CONSIDER WHEN CONSIDERING FREE WEIGHTS: EXPERIENCE!
Too often we work with clients who think the priority should be space or price when researching free weight options. However - we feel what is most important is your experience when working out with your chosen free weights.
To start, picture how you see yourself working out. Free weights are a very personal, high-touch fitness tool, so every time you pick up the weight you are instantly reminded of if you bought the right quality, design, and construction for you.
WHY SHOULD YOU INVEST IN FREE WEIGHTS?
Equipment experts unanimously agree free weights are considered to be some of the most versatile fitness equipment, cost saving, goal producing fitness products on the market. Not only do they promote functional fitness, but they allow for a full range of motion increasing balance, stability, and strength simultaneously.
Still need some more convincing? Check out our blog on unique benefits of free weights here.
KNOW THAT PURCHASING THE RIGHT FREE WEIGHTS REQUIRES PERSONALIZATION:
Deciding which free weights best suit your needs, budget, and space requirements isn't an easy feat. How do you even know WHAT to consider when contemplating a free weight purchase?
Most importantly, it's critical to select fitness equipment based on your individualized needs.
LET'S GET STARTED:
Take a few minutes to review the questions below to help you identify your free weight needs.
Do you have a space picked out for your free weights?
Understanding your space is key, so you can maximize your square footage. A common misconception is that free weights are a one size fits all solution. However, there are a variety of options that take up a variety of different spaces. So having a layout of what additional products you want in your home gym and what space will be designated for free weights is a good first step.
Who will be using the equipment?
Will it just be you utilizing your fitness space or will you be sharing with family members. If you will be sharing this product with others it's a good idea to touch and try the equipment together to ensure you're all on the same page with your free weight desires.
Most importantly, free weights are a very personal item to workout with. It's important that you find the right solutions that not only feel comfortable for everyone using the equipment, but also support individual workout goals.
What are you trying to accomplish with your free weights?
Whether weight loss or strength training, functional training or interval training the type of exercises and at what weight amounts would be good information for an equipment expert to help you select the right free weights.
Do you need your free weights to be portable?
Do you plan to workout solely in your home gym or do you like to bring your workout outdoors or to a friends house? This would be something to consider when looking at a free weights set versus adjustable dumbbells.
Do you have any physical limitations?
Do you need to consider the best free weights that support low-impact workouts?
Should you explore adjustable dumbbells?
When considering adjustable dumbbells it is important to take into consideration everyone who is going to workout in your home fitness space because price plays an important role here.
Of course, we think a great option is to build a full library of different weights that you can use in your home workouts, but if price is a consideration then dumbbells that provide a variety of weight - in small increments - are an excellent option.
For example, it is important to continue to challenge yourself in your workouts to avoid the dreading workout plateau, however, have you considered if you can safely make a larger incremental weight jump and still work out safely and efficiently? From our experience, often clients tell us that it might be too big of a challenge to make a big jump in weight from 20 lbs to 30 lbs, versus incorporating the smaller increments available in adjustable dumbbells.
UNDERSTANDING THE OPTIONS.
Now that you understand your needs, it's important to understand your options when it comes to free weights.
Dumbbells
Dumbbells are handheld free weights consisting of a handle and matching weights attached on both ends. They can be used in pairs or solo.
These are great for beginners because they require more individual muscles to fire in your arms and core to keep the weights balanced as you move them up and down. Your hands are not in a fixed position like they would be using a barbell, so there's less rigid stress on your tendons. People often invest in a set of dumbbells and a rack on which to store them.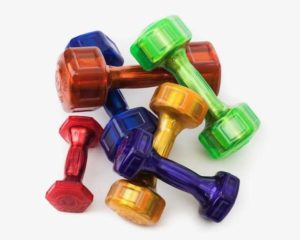 For example, the Hampton Jelly Bell Dumbbells above are an excellent option for your home gym with their vibrant, fun colors, non-porous surface making it easy to keep them clean post workout, and are highly durable and impact resistant.
Or, if you prefer something more traditional in design, you can explore the Hampton Durabell Dumbbell shown below or the classic Chrome design.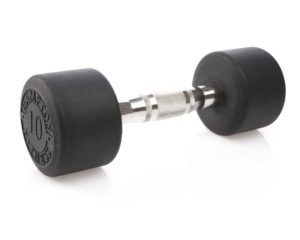 Adjustable Dumbbells
Adjustable dumbbells refer to a single pair of dumbbells, whose weight can be adjusted as needed to be heavier or lighter. Essentially this one piece of equipment can replace numerous pairs of dumbbells while allowing you to utilize a variety of weight sets. It is cost efficient and space conscious.
Read more about the perks of adjustable dumbbells here.
A few of our favorite adjustable dumbbells include the PowerBlock Pro 50 Adjustable Dumbbells Set show below. The PowerBlock is a great option for anyone whose top priority is equipment designed to be durable and stable.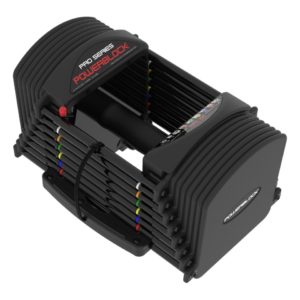 Or, explore the MX55 Selectorized Dumbbells you want a solution that comes with a stand (which we feel is a great tool to keep your workouts moving along quickly and avoid downtime of fumbling to make adjustments).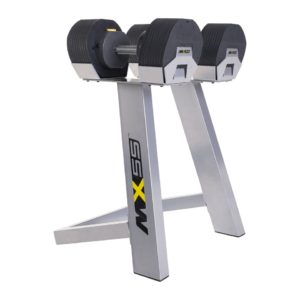 Barbells
A barbell is another type of free weight, consisting of a long bar with weights attached on both ends. They require both hands, as they're too large to use with one hand or in pairs. They require less work from the smaller stabilizer muscles than dumbbells, making it easier for users to focus on larger muscle groups.
They're often the free weight of choice for more experienced weightlifters, primarily because they make it possible to work with greater weight.
There are many great options when it comes to barbells. For example, the Troy Pro Style Barbells are designed to be incorporated into almost any strength workout including a wide range of arm exercises like various types of curls, extensions and presses or to target your legs with squats and lunges.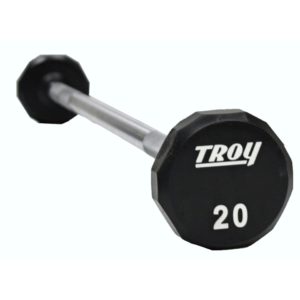 Additionally, you can explore innovative bars like the Hampton Gel Bars designed strategically to take the guesswork out of positioning your hands during your workout.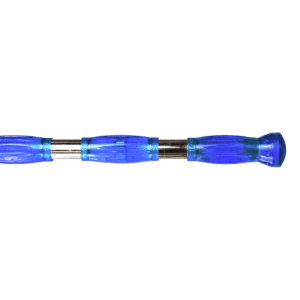 Racks
Racks are a great tool to consider adding to your workout space for both safety and convenience. First, you don't want to be crushing your workout and turn around to transition to your next exercise and trip over a lone free weight.
Next, keeping your free weights organized is a great way to ensure you can easily transition from one movement to the next.
PLUS - as shown below - we think it just looks nice to neatly showcase your fitness tool arsenal for all to see!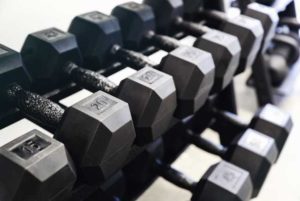 When it comes to adjustable dumbbells, we almost always insist you buy the stand that comes with them, and here is why.
Adjustable dumbbells are an awesome tool in any workout, but it's important to consider HOW you actually adjust them. Without the appropriate stand, the flow of your workouts can suffer.
For example, are you going to stand to adjust them? Cradle them to adjust them? No! Because we encourage you to adjust the weights throughout your workouts, or between multiple people using them, we encourage you to consider the stand designed at the right height to grab, replace, and switch.
We know that the decision to purchase quality gym equipment is a personal investment, and we feel passionate about finding you the right tools so you don't waste your time and money purchasing something you won't use.
We want your home gym space to be a motivating place– not one you dread being in. So we suggest meeting with us, your local fitness specialists, for a free consultation. We can make personal recommendations focused on helping you enjoy your experience working out with free weights.
We can walk you through the different options to help you more fully understand the different features and benefits, as well as "test drive" our full free weight selection.
Contact an equipment expert today to get started.
To learn more about the benefits of free weights and how to select the right free weights for your workout goals, check out;
- How to Buy Dumbbells: Featuring Hampton Fitness
- Beginners Guide to Using Free Weight