Meet Your New Virtual Fitness Partner
First, it's important to note that buying the right fitness equipment for your home requires more consideration and personalization than you may expect. So, where do you begin when both quality, well-made equipment AND an immersive training experience is important to you?
It's easy - work with a Gym Source fitness specialist to find the right equipment solutions for your goals and THEN ADD digital training programs.
How to determine the best fitness equipment for your home
Start with determining WHERE you will work out. We encourage you to start your shopping with knowing where you want to create your fitness space so we can help you maximize that space.
Consider everyone using the workout space or gym equipment. You have your own personal goals, limitations, and preferences - but so does everyone else using the same equipment. We can work with you to find adaptable fitness equipment that will meet the needs of and accommodate everyone using it.
Know your limitations. Our Equipment Experts work with you to find the best solutions to overcome any obstacles and accommodate your individual range of abilities with a wide variety of equipment options.
Visit your local Gym Source store to test, touch, and try different equipment to find the right fit for you. It's imperative that you demo a variety of home gym equipment prior to committing to it.
So, now that you have tested equipment, answered the questions to ask before purchasing fitness equipment, and selected your ideal workout tools - IT'S TIME TO ADD TECHNOLOGY TO KEEP YOU ENGAGED AND MOTIVATED.
The Benefits of Connected Fitness
Technology is changing the fitness experience at a rapid pace.
We love the option to choose a high quality piece of gym equipment made to last, and backed by a company who will guarantee its quality with expert service and support, and THEN add a technology experience you find inspiring, entertaining, and exciting.
There are lots of options to consider when exploring connected fitness solutions, for example Zwift.
Incorporating Zwift into your workouts means that you can choose the best home treadmill or indoor exercise bike for your goals, budget, and available space WITH innovative virtual training technology.
Explore the many benefits of Zwift below to learn how easy it is to get started.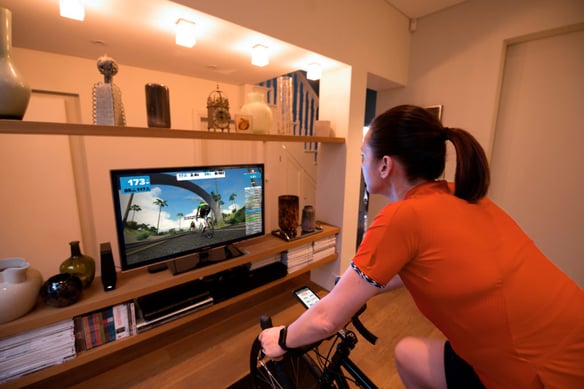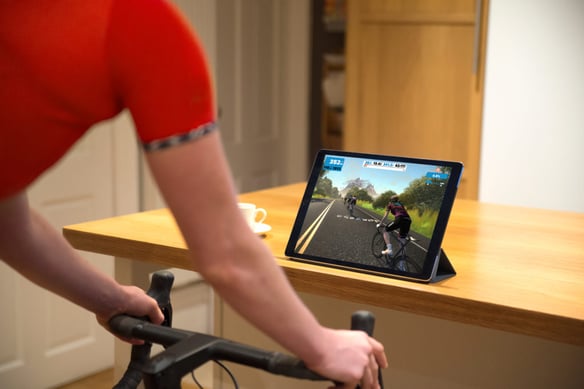 Here's just a snapshot of what you can experience by incorporating Zwift into your indoor workouts:
- Virtual Training
Tapped out of binge watching all your weekly shows while running or cycling? Crave the feeling of the outdoors, but love the convenience of indoor cycling? Enter Zwift. You can now virtually run or ride over 100km of road, both real courses, like Prudential Ride London and virtual, like inside a volcano. The world is really your cycling oyster.
- Social Ride Groups
Zwift allows you to connect with other runners and cyclists from the comfort of your own home. Stay motivated by competing with real competitors all over the globe, or socially ride alongside others to stay motivated.
- Structured Workouts
Looking for a little direction to take you to your next level of training? Train solo or in a group with workouts at a variety of fitness levels delivered by elite World Tour coaches.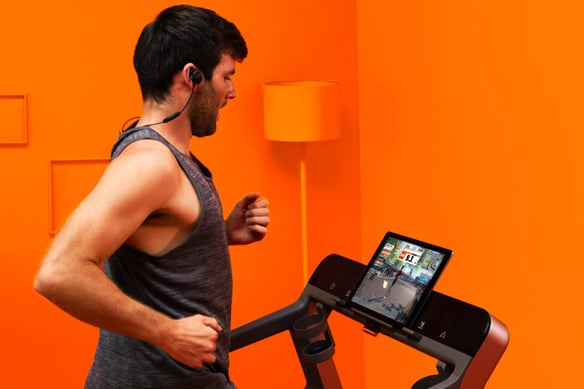 Ready to combine the best workout technology WITH the best fitness equipment from Gym Source's impressive product lineup?
Contact your local Gym Source for the ultimate demo: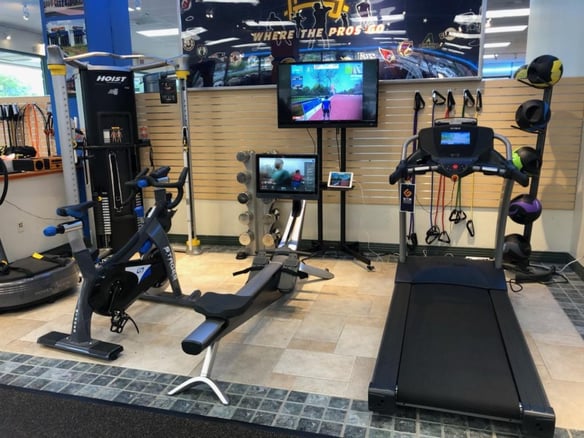 Need help or want personalized recommendations? Visit your local Gym Source fitness equipment showroom to get paired up with the right piece of home gym equipment and to experience the ultimate demo of Zwift.
Still on the fence about which equipment is right for your home gym? Explore our equipment expert's recommendations for home gym must haves.