Year-round Gym Source encourages fitness fans to live a healthy lifestyle inclusive of making informed food choices and incorporating healthy exercise habits. During March, we encourage everyone to 'Put Your Best Fork Forward' in celebration of National Nutrition month.
The goal of National Nutrition Month is to highlight how making small changes in your eating or exercise habits can make a big difference and add up over time.
Tips from the Academy of Nutrition and Dietetics to help you stick to the basics of healthy living include:
- Create an eating style that includes a variety of your favorite, healthful foods.
- Practice cooking more at home and experiment with healthier ingredients.
- Find activities that you enjoy and be physically active most days of the week.
The benefits of regular exercise have long been established, and there are lots of good reasons to live an active lifestyle including, higher levels of endurance, improved cardiovascular health, muscle tone and strength, lower blood pressure, and weight management. In addition, exercise can also improve your mental health.

Dedicating yourself to a healthy lifestyle is easier when you discover your ideal balance of healthy eating and physical activity. Life is about moderation, so just as it's important to enjoy treats without worry - it is important to incorporate regular physical activity into your routine.
Fitness Tips to Stay on Track:
- Determine your goals, and create a workout plan to keep you accountable.
- Enjoy your food splurges - if you feel guilty, it isn't a treat.
- Remember, consistency is key. Choose an activity you enjoy so you will stick with it
- Select fitness equipment that is designed to accomplish your goals. You want equipment that fits you - instead of you having to fit it.
What exercises burn the most calories?
You can incorporate low impact, cardio workouts on a home elliptical, go for a brisk walk around your neighborhood or break a sweat with a diverse, full body workout that keeps your body challenged. Everyone's fitness journey is unique, so it is important you discover which type of exercise keeps you engaged and motivated.
In addition, there are lots of home fitness equipment solutions that will provide you with an effective workout - especially as fitness equipment continues to evolve with new product innovations that help you stay on track and committed to your workouts.
For example, TRUE Fitness' Alpine Runner's unique design incorporates a -3% to 30% incline range that more than doubles most leading home treadmills. Love running, but can't handle the impact? Explore Octane's Zero Runner which is designed to mimic a natural running stride but with zero impact.
Of course, if you are working towards a fitness goal, it is important to not just break a solid sweat, but to also know how many calories you burn completing specific workouts. For example, working out on TRUE Treadmills will eliminate the calories in a large fry in less time than you think.
View our infographic below to see how much time it takes for TRUE's treadmills to torch the calories of your favorite food indulgences.
Learn & Burn - How long you have to workout on a treadmill to burn off: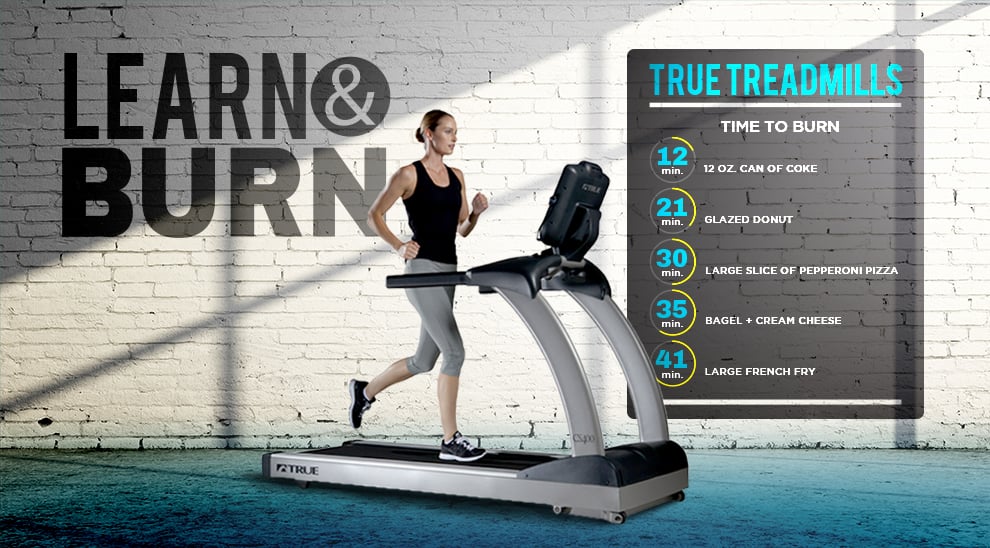 - 12 minutes to burn off a 12oz can of coke
- 21 minutes to burn off a glazed donut
- 30 mins to burn off a large slice of pepperoni pizza
- 35 mins to burn off a blueberry bagel and strawberry cream cheese
- 41 minutes to burn off a large fry
Lastly, when deciding on the best approach to living your best balanced lifestyle, be sure to consider how your plan fits into your daily routine. Whether you are new to working out, starting again after taking time off, or looking to improve your current endurance will all effect your ideal workout plan. Learn how to create a measurable workout plan that helps you reach your fitness goals.
If being physically active or making smarter food choices hasn't been your priority recently, or you are just looking for motivation to stay on track and committed to your health lifestyle - National Nutrition Month is the perfect time to re-engage.
Remember that small changes add up quick!
Get started on a healthier lifestyle by setting reasonable goals and incorporating small food changes such as cutting back on candy or drinking less high calorie drinks. Break a sweat! Exercise is an essential component to your overall health and Gym Source has the tools to keep you in motion.
Need help deciding on the right fitness equipment solution for your home gym? Connect with an equipment expert today or visit your local Gym Source store. We can match you with the right fitness equipment to help you reach your goals.
Note: Calories burned are estimates as individual results may vary to the following factors: height, weight, body types, exertion level and fitness level. True: Calories burned are based on a 35-year-old female, 5'7", weighing 150 pounds walking at 6mph at an incline of 0.