At Gym Source, we value the expertise of personal trainers. That's why we regularly spotlight local trainers who have a passion for fitness. This month we're featuring GYMGUYZ in the Hudson, Bergen, and Passaic Counties, NJ.
Personal Trainer Spotlight: GYMGUYZ, a mobile personal training and fitness franchise company.
Areas Servicing: Hudson, Bergen, and Passaic Counties, NJ.
Experience: GYMGUYZ is a team of certified, experienced personal trainers who bring state of the art fitness equipment, and customized science-based workouts that get results! GYMGUYZ performs one-on-one training, small group sessions, and classes. They cover most major fitness disciplines and can work with any client of any level
New Jersey area franchise owners and certified personal trainers Joshua Grinstead and Manny Gotay share with us how GYMGUYZ's unique philosophy helps clients stay focused on improve all aspects of their health and fitness.
"GYMGUYZ supplies the tools and techniques to get you in shape in the comfort of your own home, office, or setting of your choice. We welcome clients of all levels regardless of experience, age, or ability. We set our clients up for success by assessing their fitness goals, nutritional habits, lifestyle, measurements and fitness strengths and opportunities. We then set a targeted strategy to their goals and track our progress. The results speak for themselves! Our coaches are amazing! GYMGUYZ teaches lifelong habits that will keep one looking and feeling their best."
To get started, Josh and Manny share their top tips to select the right personal trainer for you:
- Check credentials. Personal training is pseudo medical in nature, ensure whoever you are working with has the appropriate training and experience level.
- Ask for references.
- Make sure it's a good personality fit. A trainer's role is to be a coach, to push, pull and encourage you, not to be your best friend.
- Lastly, make sure they have insurance.
Once you know how to pick the right personal trainer for your unique goals and limitations, it's time to get started.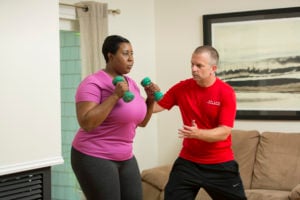 One of the biggest perks of working with the knowledgeable GYMGUYZ team is that vetted trainers make fitness convenient by coming to you. "We will train you in the setting of your choice. It may be your home, backyard, garage, office or maybe a local park," explain Josh.
Additionally, GYMGUYZ brings all the fitness equipment you need for a solid workout; including mats, dumbbells, stability balls, resistance bands, and kettlebells to name a few pieces of equipment. However, their team also creates custom plans for you to follow on the days you aren't training.
"We create programs that incorporate some form of cardio. If you have a home treadmill, elliptical, rowing machine, or an indoor cycle that is ideal. If this is not possible, head out and go for a walk. Plus, customized strength plans to help you stay motivated and maintain a training structure needed to reach your goals."
Additionally, we will explain every piece of home gym equipment used during the training session, and you will benefit from our coaches' expertise.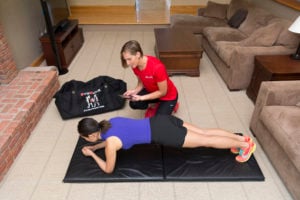 Gym Source knows the value of hiring personal trainers because when you pair an expert with your workout routine, you ensure you are getting the most out of your workouts. Safety, versatility, variety, and expertise are just some of the major benefits of working with a certified personal trainer.
"Personal trainers are an asset in your fitness equipment ownership experience. Their expertise helps you get the most from your fitness investment. A few of the major benefits of working with a personal trainer include learning the proper use of your fitness equipment and versatile workouts you can do to get the most out of your equipment," shares Terry Klysz, equipment expert at the Paramus Gym Source.
When asked what sets GYMGUYZ apart from other in home personal training companies, Josh and Manny felt it was important to note -
"We strive to be integrative in nature, and focus on functional movement. It's not just about looking good, body fat, and muscle mass. But good posture, balance, range of motion, flexibility, stamina, and isometric strength. Not to mention consistently discussing nutrition, a huge contributor to overall health."
In short, GYMGUYZ focuses on versatility when working towards fitness goals.
"There's 10,000 different ways to attain the client's goals, no two sessions should look alike to prevent physical plateauing and mentally checking out."
Ready to talk to a personal trainer? Contact your local Gym Source equipment expert for a list of vetted local trainers. Want to learn more? View our Ultimate Guide to Choosing a Personal Trainer.
In the Paramus area? Gym Source Paramus has a special partnership with GYMGUYZ By purchasing select equipment from our stores, you now receive a complimentary fitness assessment and equipment tutorial from them. Plus! Unique discounts to Gym Source clients, and more!
Follow GYMGUYZ on Instagram and Facebook for more inspiration as you embark on your fitness journey this year.
Need help finding the perfect home fitness equipment to reach your goals?
Test, touch, and try a wide variety of fitness equipment in store to find what fits you.
Uncertain about how to build your best home gym? Don't worry, our equipment experts shared the essential fitness equipment for every home gym. Learn the must have home gym equipment here.