Personal Trainer Spotlight: Ryan Schmidt
Area Servicing: Servicing the West Chester, Chester County, The Main Line, Downingtown, Exton, and Media.
Experience: Licensed Personal Trainer with a Kinesiology Degree from Westchester University.
At Gym Source, we value the expertise of personal trainers. That's why we regularly spotlight local trainers who have a passion for fitness. This month we are featuring Ryan Schmidt, owner of SchmidtFitt.
When asked how he got started in the industry, Ryan explained fitness as the cornerstone of his lifestyle. From an early age he participated in sports all the way through collegiate level. He joked, "I soon realized you can't play forever. I had to find a way to turn something I loved into a career" - hence the Kinesiology degree from Westchester University.
Ryan began his career by training high school students, both through varsity level track and football coaching. His passion was always the one-on-one training though, so he soon took the entrepreneurial plunge and opened up his own personal training business, SchmidtFitt.
When asked about his clientele, he explained he truly serves a wide variety of clients looking to achieve diversified fitness goals. "My youngest client is 10 years old and my oldest 78. Truly, no two sessions look alike for me."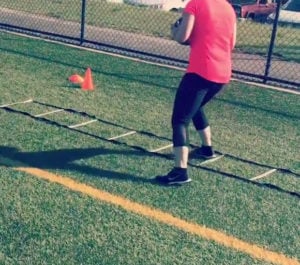 His philosophy is simple: help client's exceed their fitness goals by pushing them beyond what they think is physically possible. How does he do it? "My goal for most clients is to get them doing high impact training, resistance training and free weight training in a 50 minute workout. That is where I see my clients succeed."
However, it takes time to workup to this level. "I would never start a client out on free weights who has never lifted weights before," Ryan explains. "A client needs to master his or her form with the help of weight machines before graduating to free weights."
When asked his favorite success story he immediately began sharing about a 23-year-old client, Michele. "When we started together three years ago, she had no idea how to lift a weight or use machines, today she could be a personal trainer. She drives over an hour for her training sessions, her dedication is relentless and her transformation story is a testament to that dedication."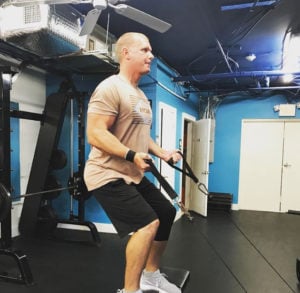 Ryan is in the process of revamping his own home fitness space outfitted with Gym Source equipment.
"I was concerned about maximizing my square footage to my convenience and I didn't want it to look cluttered. I'd suggest to anyone looking to build their home fitness space to map it out first and use the Gym Source equipment experts like Darren Stroh in the Wilmington showroom. Just because I am a trainer, doesn't mean I know everything about the equipment. I leaned on the experts to help!"
Need help finding the perfect home fitness equipment to reach your goals? Connect with one of our equipment experts at your local Gym Source fitness equipment store.
Test, touch, and try a wide variety of fitness equipment in store to find what fits you.
Uncertain about how to build your best home gym? Don't worry, our equipment experts shared the essential fitness equipment for every home gym.
In the greater Westchester, PA area and looking for a trainer? Visit the SchmidtFitt website or instagram to contact Ryan for a consultation.