Free weights are a common addition to any home fitness space, especially those focusing on strength training or interval training. But an equally as common question is which makes the most sense for me: adjustable dumbbells or fixed dumbbells?
Our equipment experts sat down to outline the benefits of adjustable dumbbells and why they may, or may not be the best choice for your free weight needs.
Dumbbells are an inherently versatile workout option that can be used by mostly anyone, at any fitness level, so when you design a piece of fitness equipment to be MORE adaptable it has its advantages.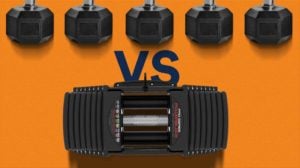 Space Saver.
Looking to get a varied weight range for your free weight workouts, but tight on space? Adjustable dumbbells are the obvious choice allowing you to maximize the variety of workouts you can perform with a much smaller footprint.
Budget Conscious.
Adjustable dumbbells allow similar workouts at a fraction of the cost. Have a family of varied fitness levels all looking to jump into the free weight game? Adjustable dumbbells may be the most budget friendly option to meet the most user's needs.
Portability.
Are you a trainer bringing free weights with you to your clients? Do you workout in a variety of places? You'll find the portability of adjustable dumbbells are more convenient.
Versatility.
Ready to diversify your strength training? Adjustable free weights will allow you to go from tricep kickbacks to bicep curls at different weight levels in a jiffy with just one piece of equipment.
In short, adjustable dumbbells are a wonderful, space conscious, budget conscious, portable and versatile option!
Not sure where which adjustable options is the right fit for you?
First, our equipment experts can ALWAYS make personal recommendations for your specific goals. But, to share a few options we think should be considered:
- Take a look at the Powerblock Adjustable Pro Dumbbell Set if durability and stability are your top priority.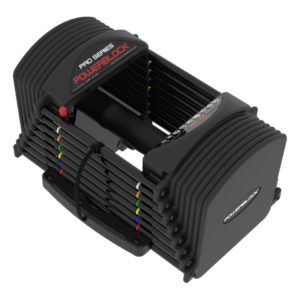 - Check out the MX55 Selectorized Dumbbells if price and coming with a stand are your top concern.
One equipment expert shares, "The MX55's shape is designed to provide a comfortable grip for the user."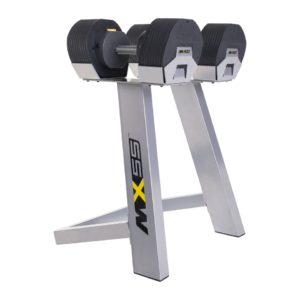 Or explore the MX80 adjustable barbell to continue incorporate different workouts into your routine.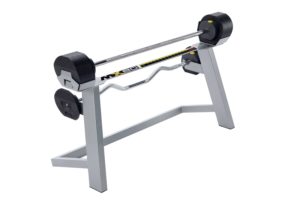 However, we'd be remiss if we didn't note that if you are looking to switch back and forth often between exercises and weight ranges and have the budget and space to fit a full rack of free weights it is a great option.
Connect with an equipment expert today to further discuss which makes the most sense for your home fitness space.
Already set on your strength equipment needs, but looking to take your training up a level? Talk with one of our equipment experts about getting connected with a VIP personal trainer or learn how to choose the right personal trainer for you here.
Interested in exploring additional equipment that our fitness equipment experts declare to be "home gym must-haves"? Check out our suggestions here.