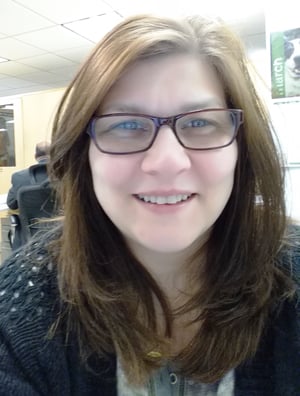 Each month, Gym Source is featuring an employee who exemplifies the passion for fitness innovation and dedication to customer service for which the company is known.
Employee: Christine Modelfino
Location: New York City
Quotable: "There's so much I love about my job! There is always something new to do. At times it's hectic, but a good challenge makes it all worthwhile!"
Behind every successful customer service experience at Gym Source is a devoted and enthusiastic employee like Christine Modelfino. Christine is the Accounts Payable Manager/Office Manager at the Gym Source headquarters in New York City. This role puts Christine not only behind-the-scenes at our flagship location, but right on the showroom floor. "You don't realize," she explains, "how much effort it takes all around to have everything run smoothly."
Christine handles the processing of all Gym Source inventory and product invoices—a multi-faceted responsibility that involves cross-checking prices against purchase orders, ensuring goods are received, and scheduling payments to our manufacturing partners. "There is a lot of follow-up involved," she explains. "I work closely with the vendors. I process credit card payments, run reports and make travel arrangements. I also keep track of employee hours and days off at this office. I guess I am the go-to person!"
Before coming to Gym Source, Christine handled accounts payable and accounts receivable at the advertising firm CSI for about 12 years. She also worked at Portico Bed and Bath for 7 years as the accounts payable and office manager.
Christine's tenure at Gym Source proves the adage about time flying when you're having fun. She says: "I've been here almost 10 years now, and it's gone by very fast. It helps that I love what I do! Keeping our vendors happy—while making sure our products are priced right and enjoyed by our clients—is always fun!"
Most of all, Christine enjoys the people she works with—colleagues and clients alike. "It's nice to know that I'm appreciated," she says. "I enjoy working with our vendors, and we have amazing people working right here at Gym Source. It's nice to be able to help others. You go home feeling satisfied."
Christine's close work with vendors makes her very familiar with all of the equipment sold by Gym Source. "Gym Source has so many different products; it really is amazing that there are so many ways to stay in shape and reach your goals," she explains. "My favorite has to be the entire line of Cybex Arc Trainers. They are very popular, no doubt because they offer such a great workout!"
Enjoy great customer service from Christine and our entire team of Gym Source professionals when you visit Gym Source in New York City—or any one of our 31 locations.