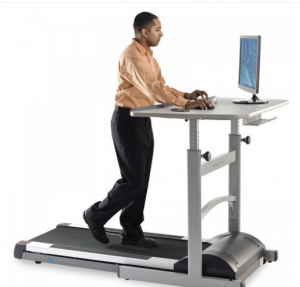 The following fitness information has been graciously provided by our friends at LifeSpan.
LifeSpan is dedicated to making people healthier and happier, which is why we provide equipment to keep you active whether at home, work or in the gym. We offer several pieces of equipment because we believe in finding your rhythm and what works for you. Choose from exercise bikes, treadmills, a rower or a stretch partner. We make it possible to be active at any time throughout your day, and yes, this includes while sending emails and surfing the web with our treadmill desk or bike desk. But we also understand the importance of safety, so we make sure to include unique features on our products to minimize the possibility for injury.
Here are some of our safety features for Treadmills and Treadmill Desks:
Safety Key: The safety key attaches the console to an article of clothing on the user. The key can be pulled at any time to immediately stop the treadmill belt.
Intelli-Guard: The built-in Intelli-Guard™ pauses the belt if you step off during your workout. This is our unique safety feature for the user and those around them. When your foot no longer continuously strikes the belt surface for 20 seconds, your treadmill will automatically pause.
Moving Logo: The LifeSpan logo is on the belt to show belt movement.
LifeSpan also recommends taking other safety measures that will be unique to each user. These are wearing the correct clothing and footwear while you exercise, making sure you take it slower at first and work your way up to your fitness goals. Also, be sure to keep proper ergonomics in mind when you are on equipment, this can be a factor in results you receive and injuries sustained. These can be slight adjustments that make you work out smarter.
Whatever rhythm you find yourself in, we've got the right products for you! So next time you wish you were being active at home or in the office, think of LifeSpan.