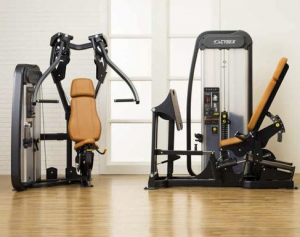 In today's fitness industry, equipment manufacturers fail if they don't innovate, and for good reason. As consumers educate themselves about exercise and health trends, people expect more than weight loss or increased muscle mass; they're looking for lean muscle, improved bone density, increased endurance, and relief from chronic conditions. This demand has been the motivation for Cybex's next generation of Eagle exercise machines. As the leaders in selectorized equipment, the engineers at Cybex know what they're doing.
From a redesigned aesthetic to more refined movements, the Eagle line will give you more than you'd expect from strength training machines. Part of the appeal of the machines is that they're great for all users, with the durability to withstand harsh movements yet the safety mechanisms and features to protect sensitive joints. Some equipment highlights include:
Easy-to-read, illustrated placards and QR codes linked to a digital library so beginners can be sure they are using proper form and movements

Ergonomic, double-stitched upholstery

A fully-enclosed weight stack that combines sophistication with safety

Effortless seat adjustments
These are just a few of the exciting new features you can expect to see in this next generation product line. Users will also enjoy the opportunity to choose between machine-defined or individual-defined movements, with independent arm and converging/diverging motions. Take a look at Gym Source's current offering of Cybex products and expect to see more soon!