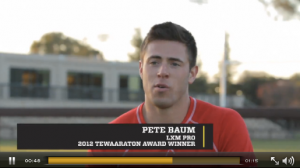 What's not to love about lacrosse? It's a fun, exciting, fast-paced game that works up a sweat and burns calories in no time. It's highly-competitive and perfect for driven, high-performance athletes. And lastly, it's an easy, interesting way to build endurance and get a unique cardiovascular workout. Numerous products on the market are designed for lacrosse novices and aficionados alike, and the TRX Rip Lacrosse Workout Instructional DVD rivals them all.
This 30-minute training challenge--included with the TRX Rip Trainer workout system--is led by Rip Trainer Pete Holman and LXM Pro Peter Baum, the 2012 Tewaarton NCAA Player of the Year. The workout is staggered in a progression from "Beginner" to "Intermediate" to "Advanced," so you can follow along and promote yourself to new levels as you feel comfortable. Training routines review how to build rotational power, improve the speed of your shot, and put more power behind your checks.
Whether you're looking to move into the lacrosse big leagues yourself or just want a fun way to blow off some steam, you'll also enjoy practicing your offense, defense, and cage games. Plus, you'll develop skills that are useful in any sport, including speed, agility, and left/right balance. TRX is known for its arsenal of training tools, and now you can count the Lacrosse Workout DVD as just one more way to get the body of an all-star athlete! Get the full scoop from the TRX website here: https://www.trxtraining.com/products/trx-rip-lacrosse-workout.