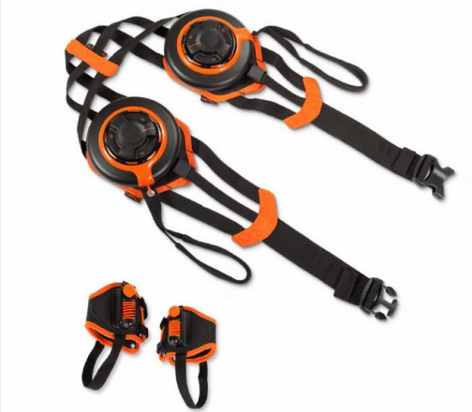 If you haven't seen the DISQ, it's time to discover this incredible tool. Designed by a team of elite Dutch speed skaters, the DISQ delivers what no other resistance training tool can—the ability to perform a full battery of gym-caliber training anywhere, anytime.
Strength, stamina, toning—the DISQ helps your individual or group fitness clients achieve their goals on their own terms, in their own time. Explains Robbert Boekema, founder and inventor of the DISQ: "The DISQ is one mobile device that gives you the complete freedom to train wherever you want, whenever you want."
The DISQ itself is a patented lightweight, transportable resistance tool that affixes to your shoes and waist prior to working out. (The video below shows just how easy and fun it is!)
To begin, simply strap on the waist pack, and then affix the two accompanying ankle cuffs to your legs. Then, pull the DISQ's handles out of both resistance housings, and loop them down and around the attachments on the outside of both ankle cuffs. Once set, the DISQ is perfect for lower-body and upper body exercises.
As more trainers use this amazing tool, more workout adaptations are becoming available to help your clients reach their goals with fresh, innovative DISQ training techniques. Ready to give it a try? Visit your closest Gym Source to see how the DISQ can help your clients succeed and your business grow.