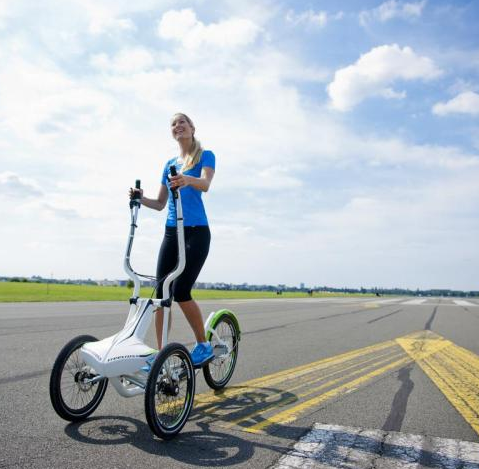 Fall is the perfect season for outdoor workouts—and FREECROSS is the perfect way to take your elliptical training everywhere you go.
That's right: FREECROSS is a limited-edition, 3-wheeled, full-body elliptical trainer built for the great outdoors. Train around the block, around the neighborhood—even on local trails and pathways. Experience the fresh air, varied terrain, and total fun that only FREECROSS provides.
SEE ALSO: Gym Source Selected as Exclusive North American Dealer for FreeCross™ Outdoor Elliptical Bike
Precision-engineered and hand-built in Germany by Bertrandt AG, an automotive design firm owned by Porsche, FREECROSS is currently available in the U.S. exclusively at Gym Source for a limited time. Don't miss this opportunity to own and enjoy the only outdoor elliptical trainer that gives you:
A patented "lean-to-steer" damper system co-developed with Porsche design engineers for ease, stability and easy-to-learn street-carving control.
An all-terrain lightweight aluminum frame for easy movement, handling and storage.
A non-indexed NuVinci N360 Gearbox for intuitively smooth shifting and comfort across all types of terrain.
Tektro hydraulic front disc brakes—paired with a rear Shimano brake system—for maximum safety and user control.
Sleek design and bright white hue that marries premium form to powerful function.
Together, every FREECROSS component works in total harmony to deliver an incredible fitness solution unlike any other. Best of all, FREECROSS frees your no-impact cardio training from the four walls of your club or home gym. (And, it's fun!)
So this autumn, take your elliptical training outside. Experience FREECROSS fitness technology—an outdoor elliptical innovation that delivers great results and so much more.
Visit your nearest Gym Source today to test-ride a FREECROSS—plus hundreds of other fitness innovations—today.