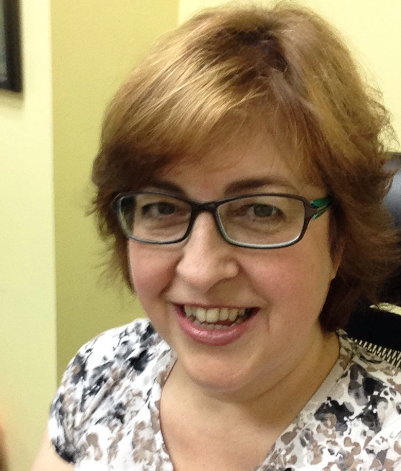 Each month, Gym Source features an employee who exemplifies the passion for fitness innovation and dedication to customer service for which the company is known.
Employee: Jackie Pflieger
Since: 2005
Location: Brookfield, CT
Quotable: "Here in the back office (as we're known) are dedicated people consistently doing their best for Gym Source. We all have a good sense of humor, and everyone is always happy to help each other."
Gym Source's legendary customer service is made possible by an entire team of professionals like Jackie Pflieger, this month's featured employee. A Senior Staff Accountant at our Brookfield, CT, location, Jackie ensures that the entire purchasing process—from ordering to delivery—runs smoothly for our clients nationwide.
Jackie feels fortunate to have found Gym Source. "I had been working for a tax consultant part-time job while my two kids were in school, but wanted to transition back to a full-time accounting position," she explains. "At that time, Gym Source was just setting up its new accounting office in Ridgefield, CT. The timing was perfect!"
Of all the aspects Jackie enjoys about her position, the fast pace and challenge are her favorites. "I love that I am constantly learning new things," she says. "My main focus in the Accounting Department is sales tax. As Gym Source continues to expand its reach into more states, I learn new rules and calculations every day." Another bonus? The short commute. "Since moving our office to share space with the Brookfield store, I only drive 10 minutes—and I never have to get on the highway!"
Jackie especially enjoys working with her boss, Dick Jannelli, and the rest of the Gym Source accounting team. When asked about her own interest in fitness, however, Jackie explains she is primarily a walker. "Fitness should be important to everyone. I do try to squeeze some walking in daily at lunchtime," she offers. "My two favorite machines would be the Cybex Arc Trainer and the Power Plate. The Cybex Arc Trainer glides so smoothly, and I can feel my muscles working without my knees bothering me. The Power Plate is just amazing; I love how much more relaxed and flexible I feel after using it!"
You may never meet Jackie, but you can be sure she's an important part of what makes every client's Gym Source experience special. See for yourself by visiting Gym Source today.