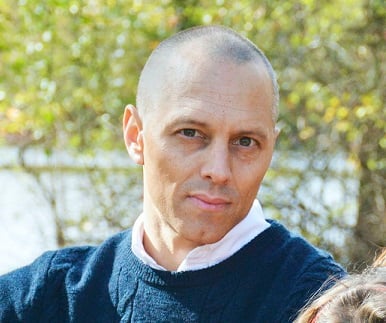 Each month, Gym Source is featuring an employee who exemplifies the passion for fitness innovation and dedication to customer service for which the company is known.
Employee: Michael Goulet
Location: New York City
Since: 2001
Quotable: "I enjoy helping all types of Gym Source clients—celebrities, professional athletes, government officials, artists, designers, doctors—all with very different needs and personalities!"
Michael Goulet, sales associate at Gym Source in Manhattan, knew from a young age that sports and fitness were his calling. Having played football as a youth—and as an active weight trainer today—Michael derives immense satisfaction from health and fitness both personally and professionally. That's why Gym Source is proud to announce Michael Goulet as this month's featured employee.
"I graduated from the University of Massachusetts at Amherst with a Sports Management major," he explains. "My original goal was to become a sports agent or work with athletes, and I love that my position with Gym Source allows me to work the same types of clients."
It didn't take long for Michael to discover that his skills and interests were a perfect match for Gym Source. "I was working out at a top gym in NYC, and I ran into the Gym Source commercial sales rep who designed the gym," Michael says. "He asked what I did for a living. I let him know I was in retail sales and management. He asked if I would be interested in working for Gym Source. I met him for an interview the following week at the NYC showroom and accepted his offer that day."
Michael loves working with the Gym Source team—but working with clients is his favorite part of the job. "The diversity on a daily basis is what makes the job so great," he says. "I enjoy a changing environment that keeps me focused. Over the last 14 years I have met some great people."
At Gym Source, Michael has helped clients large and small—but for him, the more personal sales truly stand out. One client in particular came as a referral from the Hospital for Special Surgery. The client had been in an accident, and was beginning treadmill training at his physical therapy center. Soon he would need a treadmill to continue his therapy at home. Michael knew his client was on a tight budget, so he called the Gym Source warehouse in New Jersey to inquire about available demo and floor models. "I was able to get one of my warehouse employees to send me pictures of the available used models they had, and one of them happened to be a True Fitness model with the upgraded medical rails for extra safety," he says.
The satisfaction he feels about that relationship is palpable: "We got him the perfect treadmill for under his budget, and we had it delivered two days later. I like to think I made his life much easier, where he was able to do the rehab he needed in the safety and comfort of his own home."
Michael's favorite machine by far is the Cybex Arc Trainer, which he and his wife have been using for the last ten years. "I have a few herniated discs in my back, and my wife has had two back operations," he explains. "The Arc is the only cardio and strength training machine that won't put strain on the lower back and hips. Plus, Cybex is a medically based company, so ergonomics and biomechanics are their most important focus."
Just how much does Michael love the Arc Trainer? "I was 29 when I started using the Arc," he says, "and I believe I'll be using one for many years to come." Visit Gym Source in Manhattan to meet Michael, and see a lifetime of fitness satisfaction in store for you.