Each month, Gym Source features an employee who exemplifies the passion for fitness innovation and dedication to customer service for which the company is known.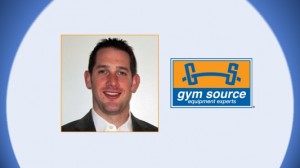 Featured Employee: David Eaton
Location: Boston Area
Started with Gym Source: 2007
Quote: "I have always been involved in the fitness industry, but now I get to represent one of the best companies by providing smart, creative equipment solutions."
David Eaton joined Gym Source's commercial division over 9 years ago, but his love for fitness began much earlier. "I have always had a passion for athletics & fitness training," said the two-time NCAA All American in Lacrosse at Merrimack College. "Now, I get to use my lifelong experience to advise customers on the best way to build their ideal gyms."
David works extensively with architects and developers on new construction projects, including corporate fitness centers and high-end multi family housing, and enjoys getting involved in the process prior to breaking ground. His experience working on a wide variety of projects has given him the expertise to help guide his clients in their decision-making process.
He knows that his clients view fitness centers as a "must-have" feature amenity to attract, and keep, top tenants and residents. His clients view their gym space as prime real estate and it is imperative that David use his expertise to strategize the best use of space.
"It is critical to both the project's success and our client's satisfaction that I deliver solutions that provide the best workout experience and fully utilize the available space," he says.
When he starts new projects there is no detail too small. For example, taking into consideration the change in weather patterns throughout the year and the location of windows. He knows that the time of year affects when the sun rises and sets, which can impact both the equipment and the users' workout experience. "You don't want the sun to potentially damage entertainment on a cardio machine during the winter months when the sun is lower, nor negatively impact someone's workout because of glare," David affirms.
His lifelong passion for fitness lead him to Gym Source, but the opportunity to deliver best-in-class experiences and results is what makes him feel at home with the company. His goal is to provide the highest level of service to his customers so they can, in turn, provide a quality experience to their clients.
David's enthusiasm and commitment is apparent. "I love working for Gym Source because I have the best tools at my disposal to help me deliver the best results. Gym Source has the fitness equipment I need to create premium, customized fitness solutions," he boasts.