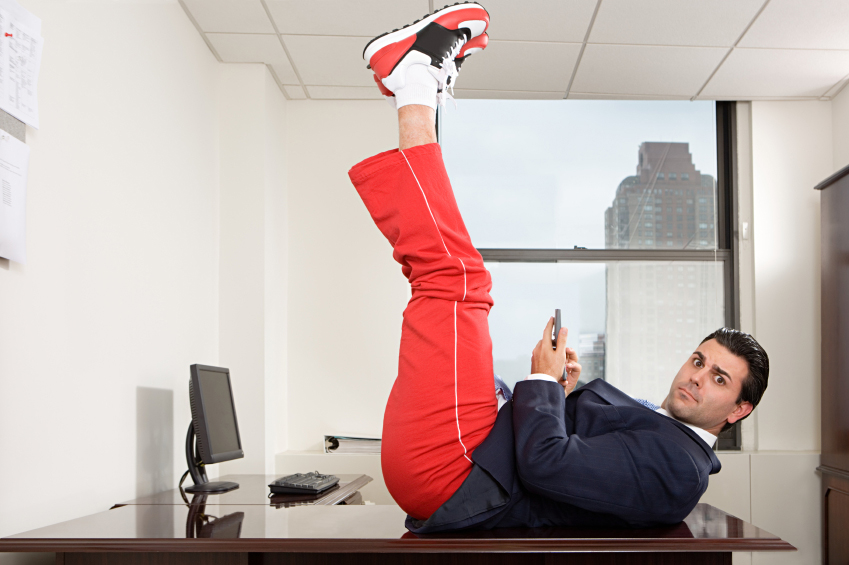 For businesses across the country, corporate wellness is a growing workplace priority. From boosting productivity, to reducing health care costs—to improving employee morale—there's no question that keeping staff physically active throughout the day is a sound strategy for success.
That's why the Power Plate® my7 FitStop™ is this month's featured product from Gym Source. The my7 FitStop provides an easy, space-efficient means for desk jockeys to integrate fitness into their day. Designed specifically to reverse the negative effects of sedentary office life—which studies have shown time and again to be one of the modern era's greatest health risks—FitStop enables workers to literally shake off that midday slump in as little as 3 minutes. With physical inactivity named the fourth-leading chronic health risk around the world according to the World Health Organization—contributing to cardiovascular disease, cancer and Type 2 diabetes—FitStop is engineered to directly combat the risks that extended periods of sitting can cause.
"The my7 FitStop is the ultimate alternative to the break room vending machine," says Lisa Stricker, Chief Marketing Officer of Performance Health Systems, Power Plate's corporate parent. "Employees simply step onto the FitStop, press a button, and after a series of simple movements, they leave feeling better in minutes. Workers get energized—and employers get a healthier and more productive workforce."
As the world leader in vibration training technology and innovation, Power Plate clearly intends for the my7 FitStop to revolutionize workplace fitness. Modeled after the company's popular my7 vibration trainer, FitStop operates using intuitive touchscreen controls and easy-to-follow instructions. As with the my7, FitStop also features Power Plate's celebrated pulsating platform that stimulates whole-body muscle response through Acceleration Training™ technology.
What sets FitStop apart from the my7, however, is the machine's total focus on workplace wellness. Its user-friendly interface invites users to select one of four signature pre-set workouts— Rejuvenation, Focused Relaxation, Cardio Boost, and QuickStop—all designed expressly for beating the 3 o'clock slump. Depending on each user's goals (and his or her time limit), FitStop programs contain a precise and effective combination of simple stretches and movements aimed at alleviating common problems caused by all-day desk work.
Best of all? For employers, it's that FitStop fits seamlessly into any office layout—in the break room, by the water cooler, or anywhere workers feel comfortable taking a brief fitness break. For employees, it's that FitStop can be used while wearing their normal work clothes. (No shower or changing room required.)
Would FitStop work in your workplace? Chances are, the answer is yes. "Today, you're more likely to see a Roth team member grabbing a midday pick-me-up on Power Plate than making a two o' clock trip to the coffee pot or vending machine," says Ted Roth, president of Roth Capital, an investment banking firm in Newport Beach, CA.
To learn more about Power Plate's entire line of Advanced Vibration Technology™—and to try the my7 FitStop out for yourself—get to a Gym Source near you.