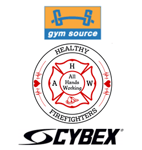 Gym Source is proud to collaborate with Cybex International and All Hands Working to keep our first responders safe -- by keeping them fit for the critical services they provide. We're thrilled to be part of an $18,000 donation to one West Chester fire company who was recently awarded a grant from All Hands Working -- in partnership with Gym Source and Cybex -- to install premium fitness equipment right in their facility. Read more below, or link to the full press release here.
Gym Source, Cybex and All Hands Working Prepare $18,000 Donation to First West Chester Fire Company in West Chester, PA.
Gym Source, the nation's leading provider of innovative fitness solutions, is pleased to announce that together with Cybex International and All Hands Working, an organization dedicated to supporting health and wellness for firefighters and first responders, more than $18,000 worth of premium fitness equipment will be donated, delivered and installed on April 6, 2014, to the First West Chester Fire Company branch of the West Chester (PA) Fire Department.
New York, NY (PRWEB) March 8, 2014—Gym Source is pleased to announce that on April 6, 2014, together with Cybex International and All Hands Working (AHW), the retailer will participate in the donation, delivery and installation of $18,000 worth of premium fitness equipment to the all-volunteer First West Chester Fire Company (FWFC), a branch of the West Chester Fire Department serving greater Chester County, PA.
The equipment itself—which includes a Cybex 525AT Arc Trainer, a Cybex 525AT Treadmill and a Cybex Bravo functional trainer—is being donated by Cybex International and All Hands Working. The event begins at 2:00 PM at the FWFC fire station, located at 70 South Bradford Avenue, West Chester, PA. Notable attendees include Philadelphia Eagles Long Snapper Jon Dorenbos, along with Joan Carter and John Aglialoro, owners of Cybex International. The event will feature a mobile cardiac unit for firefighter heart and fitness screenings. "We're proud to support these organizations and contribute to such a charitable cause," says Mr. Aglialoro. "Our company fully stands behind the importance of proper training and fitness in order to both achieve and maintain good health and we are happy to be able to donate Cybex equipment in order to help these emergency personnel with those goals."
The fitness equipment donation follows AHW's highly successful Red Line Classic charitable hockey game held 2/8/14, in which professional NHL hockey players from the Philadelphia Flyers and New Jersey Devils played side-by-side with firefighters from throughout the Philadelphia region in support of FWFC. A portion of the money raised by the Red Line Classic, now an annual AHW event, funds grants to which fire departments can apply in order to have fitness equipment made permanently available at their facilities for use by their members.
For the West Chester Fire Department, the AHW grant and Gym Source donation have special significance, having come at the urging of the widow of Captain Chris "Goody" Good, who passed away suddenly at home on 11/21/12 following his response to a house fire in West Goshen Township. She and others close to Captain Good feel that better cardio fitness and strength training should be a top priority among firefighters and emergency first responders, who are called to be at peak physical performance at a moment's notice.
"Gym Source stands in solidarity with Captain Good's family, and with every firefighter and emergency responder who risks their lives daily to keep our communities safe," says Richard Miller, founder and president of Gym Source. "By supporting All Hands Working, Gym Source seeks to keep these everyday heroes safe, as well—who themselves are fathers, mothers, sons and daughters—by improving their access to the fitness training technologies their jobs demand. We look forward to working with our fitness industry manufacturing partners to secure much-needed resources for AHW efforts and the emergency personnel they support."
AHW, a not-for-profit organization co-founded in 2012 by Danny Watkins, former offensive guard for the Philadelphia Eagles, and Joe Gordon, a volunteer and career firefighter in greater Philadelphia, was created expressly to help under-funded first responder organizations get access to life-saving training, fitness programs, and fitness equipment necessary for good health. AHW has a strong partnership with the Leary Firefighters Foundation, a premier provider of funding and resources for emergency services personnel, and works closely with that organization to assist firefighters and first responders.
"We're thrilled to present the West Chester Fire Department, First West Chester Station, with new fitness equipment on 4/6/14 in honor of Captain Good," says Joe Gordon, former volunteer firefighter, current career firefighter and AHW president, "and we're so appreciative of Gym Source for their support and resources to make this donation possible. More than 50% of on-the-job injuries among firefighters are directly related to overexertion, and over half of line-of-duty deaths are directly related to heart attacks and cardiovascular problems. Our goal is to reduce those statistics through better fitness training among firefighters. With help from Gym Source and others, we can do it."
For more information about how Gym Source supports All Hands Working, call (800) GYM-SOURCE. For more information about donating to All Hands Working—or to learn how your emergency services organization can apply for a grant—please contact Joe Gordon at (856) 258-6754
About Gym Source: Gym Source, headquartered in New York, NY, is America's largest distributor of residential and commercial fitness equipment—and an undisputed leader in fitness expertise. With 31 stores in 10 states, and more than 200,000 customers in 47 countries, Gym Source maintains its reputation by consistently providing the best customer service and selling only the best equipment. The in-house Gym Source team of fitness experts and service personnel can design, deliver, install and service the fitness needs of any facility. To learn more about how the Gym Source commercial team can provide solutions for your fitness facility, call (800) GYM-SOURCE or visit us at www.GymSource.com
About All Hands Working: All Hands Working is a charity founded in 2012 by Joe Gordon with the help of Danny Watkins. Working as both a volunteer and career firefighter for over ten years, Joe Gordon noticed a need for programs that assist firefighters when they become injured in the line of duty. Conversations with Danny Watkins about the need to provide a program that would not only help injured firefighters, but work to prevent injuries in the first place, turned the idea into a reality. All Hands Working provides an avenue for under-funded departments to receive life-saving training, fitness programs, and equipment necessary to stay healthy. All Hands Working has a strong affiliation with the Leary Firefighters Foundation. For more information, visit our website at http://allhandsworking.org/.
About Cybex International: Cybex International, Inc. is a leading manufacturer of premium exercise equipment. The Cybex product line, which includes a full range of strength and cardio training machines, is designed using exercise science to reflect the natural movement of the human body. Led by the Cybex Research Institute, Cybex fitness equipment is engineered to produce optimal results for users from the first-time exerciser to the professional athlete. Cybex designs and builds its products in the USA for a wide range of facilities, from commercial health clubs to home gyms, in more than 85 countries worldwide. For more information on Cybex and its products, visit the Company's website at http://www.cybexintl.com.
Contact Information
Tom Richard, Marketing Director
Gym Source
40 East 52nd Street
New York, NY 10022
(800) GYM-SOURCE
www.gymsource.com