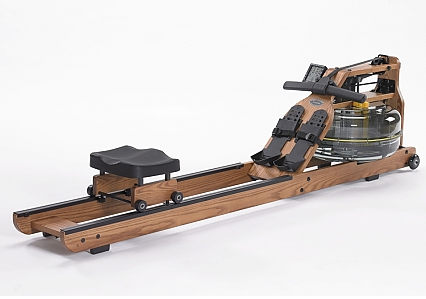 Most people know that rowing is a great workout, as it provides cardiovascular exercise while pushing you to build muscle as well. Rowing machines bring all the workout potential you'd get in a crew boat to the comfort of your health club or home gym.
That said, some legacy models leave a bit to be desired. For example, some rowing technologies feature "dead spots" when they suddenly drop resistance. Also, certain older models of water rowers (where resistance is provided by water rather than air) you would literally have to empty the water to change resistance. What a hassle!
Thankfully, time has brought with it both better technology and more innovative designs. Enter the First Degree Fitness/Viking AR2 Rower. First Degree Fitness has designed the first water rower that allows its users to change resistance "on the fly." Simply turn a dial and the machine takes care of the rest! The benefit of a fluid tank is that your isometric gains are far greater than what you'd get on an air rower, but up until now air rowers were both more common and easier to use. Now with the Viking AR2 Rower, you can get ease, convenience, and a better workout all in a single machine.
This sleek machine has the look of a high-end piece of furniture and is constructed of solid American Ash, which means that it's an attractive addition to your home décor. It also stands up straight and rolls away for easy storage. Try it out for yourself at Gym Source today!