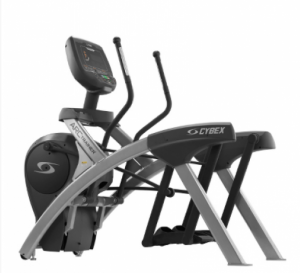 Cybex, a fitness brand Gym Source is proud to carry, offers a line of Arc Trainers that will give you a workout like you've never experienced before. These machines are "cross trainers" that have a motion similar to an elliptical. The benefit of Arc Trainers, however, is that you can burn more calories, feel less exertion, and experience a much smoother workout experience than with other types of machines. The machines are great for newbies and experienced athletes alike and are backed up by scientific research in advanced biomechanics.
Cybex recently wrote an article about the Top Five Arc Trainer Programs and we loved it so much we wanted to pass the information along to you in our own blog. These five programs are:
General Fitness: This is the perfect program for those who are just getting started in the world of cardio. You can easily build your endurance and strengthen your lower leg muscles in just a few short workouts every week. Try it for 30 minutes a day, 3 times a week and you'll see the difference in no time!
Heart Rate Recovery: This is an 8-week program designed to help you improve your recovery time. The program combines aerobic and anaerobic exercises in fluid interval training that is a great stepping stone toward higher intensity workouts.
Circuit Training: This program integrates the Arc Trainer into a wider set of workouts that combines upper body conditioning with systematic cardio activity. You'll combine time on the Arc Trainer with dumbbell exercises, crunches, pushups and more to get the most out of your time at the gym.
Off-Day Cross Training: Calling all injured athletes! This is perfect for serious exercisers who have suffered from (or are trying to prevent) overuse injuries. Supplement one training session a week with cardiovascular strength training on an Arc Trainer.
Max Strength: Most people assume that you can't get a decent strength training workout on a cardio machine. By adding an Arc Trainer workout to your daily routine of muscle-building exercises, you'll be surprised by how much functional lower body strength you can achieve and how much you can increase your muscle power.
You can get all you need from an Arc Trainer with the Cybex 525AT model, available from Gym Source. It comes with nine different workout modes, each with ten different levels, for an unbeatable selection of exercises. Or, if you're looking to kick things up a notch with a few extra bells and whistles, including Heart Rate Control and a more ergonomic design, try one of our highest-rated Arc Trainers, the Cybex 625AT. We're ready to help you at Gym Source.