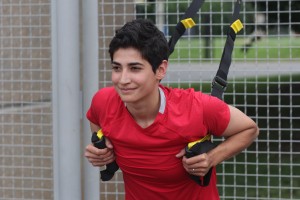 TRAINER SPOTLIGHT: Karissa Silva
AREA: Princeton, NJ
CERTIFICATIONS: Certified Personal Trainer from NASM and sports performance coach
At Gym Source, we appreciate the importance of personal trainers. That's why we regularly spotlight local trainers who have a passion for fitness. This month we are featuring Karissa Silva of K Silva Fitness in the Princeton, NJ area.
Karissa's passion for health and wellness is seen in her commitment to functional training. While she is a both a Certified Personal Trainer and a sports performance coach, she considers herself a corrective exercise specialist. Her workout philosophy is centered on finding efficient, effective workouts for her clients that have her clients feeling better and more clear headed after their session.
"Of course weight loss and stronger muscles are benefits from working out," she says. "But, ultimately I want to perform exercises that adjust posture, create muscle balance, and increase agility." One career highlight for her that stands out is a client who took a Bone Density Scan (DXA) prior to starting training with her. Six months after training, the same scan showed both increased muscle mass and bone density. "Seeing data-backed results like that is really eye opening and rewarding," she boasts.
Karissa's passion for fitness started young. At 14 she started working the front desk at Gold's Gym, later transitioning to a membership consultant at the NY Sports Club after high school.
"My experience taught me that I liked exercising, I liked being in the gym, and I have a passion for getting people in the gym. I decided to become a personal trainer because I loved the lifestyle and wanted to have flexibility," she says.
She became a personal trainer at age 18, while in college, and after more than 10 years of training experience she knows the key to her success is remaining knowledgeable in an ever changing industry. Knowing there will always be new fitness crazes, and how important it is to keep learning, will continue to fuel her to stay knowledgeable about the industry - while her love for the industry will keep her feeling fulfilled by helping people feel better and get healthier.
Karissa is the Fitness Editor for Coxing Magazine. View her latest articles here. If you live in the Princeton, NJ area and are interested in working with Karissa Silva you can contact her at silva.karissa@gmail.com.