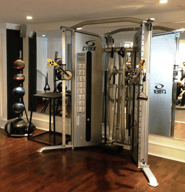 When Alex and Nedra Matosov decided to open a boutique fitness studio in Manhattan's upper east side, they brought two decades of experience and a passion for their craft. They also brought along Gym Source.
"Gym Source was the first company that came to mind," says Alex, discussing the early days opening The P.E. Club, their new state-of-the-art fitness studio at 238 East 75th Street. "Working with Gym Source was a great experience in every way, from their top-of-the-line equipment to their extremely knowledgeable staff."
Leading the P.E. Club project was Marty Weinbaum, commercial gym equipment sales representative at Gym Source. Listening to Alex and Nedra's goals for their business, Marty helped design the space and recommended specific fitness solutions for maximum return on investment and client results.
As one Manhattan's newest destinations for private and semi-private personal training—along with a robust schedule of group fitness classes—the P.E. Club now features:
Alex is thrilled with the service and expertise provided by Gym Source—and the results experienced by his clients. "We were lucky enough to work with Marty Weinbaum through the entire process," he says. "Marty's knowledge, guidance and professionalism was nothing short of spectacular. Whenever we had a question or needed assistance, Marty was there to help. Thanks to Gym Source and Marty, The P.E. Club continues to get endless compliments on its design and functionality."
For more information about how Gym Source can assist your commercial fitness business, contact your Gym Source representative today.