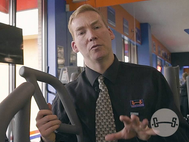 If you're looking for a high-end elliptical that offers the ultimate in personal fitness, the Octane Q37 gives you everything you need at a price that can't be beat! In this video, Norm Morrison, Gym Source product manager and trend adviser, explains how the Octane Q37 is the best elliptical value you can find in its price category. It's more stable, it's more comfortable and you'll never find a piece with better biomechanics for lower AND upper body training.
The Q37 Series features:
>>Octane's exclusive converging path handlebars, with the industry's most ergonomically-correct upper body motion.
>>An ultra-compact footprint
>>Whisper-quiet operation
>>Wireless heart rate monitoring lets you optimize your cardio training
>>Exclusive CD includes Octane workouts for legs, glutes and total-body training.
The Q37 includes everything you need for your personal fitness goals. That's why the Octane Q37 elliptical is one of Oprah's favorite things, and ours too!