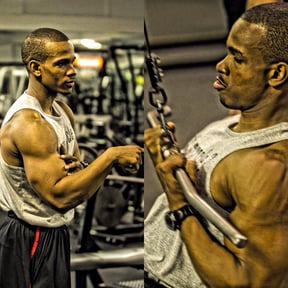 As a dedicated personal trainer, chief motivator, and CEO of Natural Body Sculpting by Wilson, Kelvin Wilson is not just sculpting healthy bodies, he is shaping lives throughout Southern Florida and beyond. "I founded my business with a simple goal: to help people reach their fitness goals with a natural approach to life through positivity, exercise and nutrition." Kelvin views fitness as a ministry, coaching and training his clients with positive reinforcement, healthy choices, and support.
Living a Healthy Life Builds a Better YOU.
Kelvin began his career in fitness a decade ago, managing a gym where people went looking to lose weight, not change habits. "People would get on a scale every day: when it went down, they were happy. If it went up, they were depressed." This was counterintuitive, and he launched his personal training initiative to get them off the scale, and focus on lifestyle instead.
He quickly found success with positive mentoring, support, and accountability to get people off the scale and living healthy lives. "By changing lifestyle and mindset, and encouraging and providing accountability and motivation, healthy choices evolve and fitness goals are obtained. Not the other way around."
Training Smart with the Right Equipment at the Right Time.
Kelvin customizes each fitness program with what works best for each client. "I use everything and anything that's accessible, with a lot of focus on lightweight calisthenics." As goals are reached and aspirations met, Kelvin introduces different pieces of fitness equipment to achieve the next level. "But it all depends on the individual. Each person is looking for something different, and that's why focusing on lifestyle is the key ingredient to success."
Kelvin's business has grown successfully through referrals and reputation. Client Nadine LeBlanc attributes Kelvin's training philosophy for teaching her to love her body as she earns 'Glutes that Salute.' "Gone is fat and flab, I am embracing FIT and FAB! Thanks Kelvin for your motivation and accountability. You are my hero!" Ms. LeBlanc said. His popular dynamic women's fitness program, Sexy Maintenance program now inspires and empowers women all over the Southeast to live long, healthy, sexy and strong lives.
It's no surprise Kelvin is a sought after motivational speaker, highlighting the benefits of fitness and faith to encourage people of all abilities – athletes to amateurs; youth to elderly; underweight and overweight; unemployed to corporate execs – to get up and start living.
"When you get off the scale and pledge to live a healthy lifestyle, you'll meet your fitness goals, whatever they may be. It's inevitable."