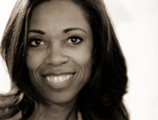 Donna Jones Parker is the perfect combination of fitness training, physiology knowledge, and renowned motivation for athletes of all abilities. It's no wonder she's the most sought after trainer in her Virginia region, according to her employers and biggest fans, John and Josefin Kennedy, co-owners of Balans Studio and Anytime Fitness in Gainesville, VA.
Core strength meets character strength
It's not often you your boss to say this about you: "Donna is just really good at what she does," says John Kennedy, co-owner of Balans Studio and Anytime Fitness. "I can't say enough good things about her: She's personal – and she's a trainer. She's a teacher with unlimited motivating enthusiasm, who takes personal training to an entirely new level. She's got it all."
He continues: "I've been in the business a long time, and Donna is hands down, the most popular instructor in the region." Donna currently teaches a multitude of classes at Balans, where her reputation is so good, her personal training clientele at Anytime Fitness is thriving because of it. Donna holds certifications in ACE Group Exercise, ACE Personal Training, Schwinn Cycle, YMCA Pilates, and TRX® Certification where she uses her extensive experience to teach classes and instill healthy living attitude and aptitude with all of her students.
Donna's classes are consistently full, and her personal fitness training thrives because of her well-deserved reputation. She has scores of loyal fans with her students; secure, confident fitness training clientele base; and the honor and respect from her peers in the fitness industry.
Perfect cues, coaching, and motivation—at precisely the perfect time
Donna's background in cardio kickboxing, core strength building, and group circuit training lets her instruct and incorporate proper form, proper cueing, and proper coaching with the enthusiasm and energy that keeps an entire room motivated and inspired.
While her talents seem endless, Donna's fitness specialties are body composition management, proper form and alignment, sport specific conditioning, core strength and flexibility, senior fitness, and strength and endurance training.
"Her ability to adapt quickly and accurately to all levels and encourage everyone in the room is amazing," said John. "She is clearly the master trainer here at Balans, and we consider ourselves lucky to have her on our team."
John and Josefin Kennedy of Anytime Fitness and Balans Studio give Donna the professional sporting equipment and tools to work with. They have been loyal and proud Gym Source clients for years, purchasing most if not all of their fitness equipment from Gym Source. We may be biased, but we think John says it best: "I've known Gym Source for years. Everything Gym Source sells is top quality, and their customer service can't be beat."